Services at Silver Lake Eye Clinic
Modern Diagnostic Equipment & Spacious Optical Department
Here at Silver Lake Eye Clinic we offer eye examinations with state-of-the-art diagnostic instruments and immediate appointments for emergency eye situations. We offer retinal (back of the eye) photography to document any pathological changes that may be present or the image may serve as a baseline image from which to compare in the future. In order to provide the most accurate outcome we have new equipment during the pretest phase of the examination.
Our optical department offers new, fashion eyewear with the latest styles available. Our opticians will help you select just exactly the right lens to fit your needs as well as offer special coatings for the lenses to ensure your vision is the best with the highest degree of comfort. Our opticians are licensed by the State of Washington and have combined experience of over thirty years. It is with this education and experience you can expect the best service from our staff the best performance from your new eyewear.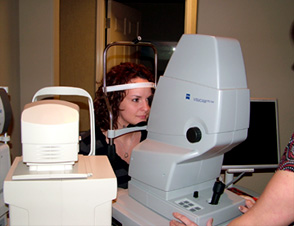 We fit a new generation of soft contact lenses which was introduced several months ago. This new generation material 'breathes' better and delivers 20% more oxygen to the cornea. This is very important to the health the cornea.
Digital Retinal Imaging
Modern digital images allow us to instantly import the images into the exam room for discussion of any changes that may need to be pointed out to the patient. We are able to keep the images securely on permanent file here in the office for future reference and comparison.
Professional Services
Diagnosis and treatment for red, painful eyes
Global Medical Eye Care
Contact Lens Services